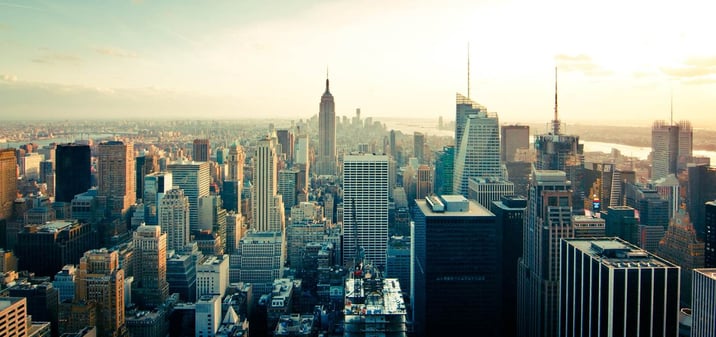 Nowadays, IT infrastructure as an Oracle Cloud service fosters business value, offering networks, storage, flexible computing and migrations of your technological applications and local workloads to the cloud. This business transformation, towards Iaas, is the new way to optimize your application.
Infrastructure as a service (IaaS) offers a series of essential features (such as storage, networking, flexible computing, native functions, migration tools, virtualization and database) to help you quickly increase a company's business value and performance of its technological applications.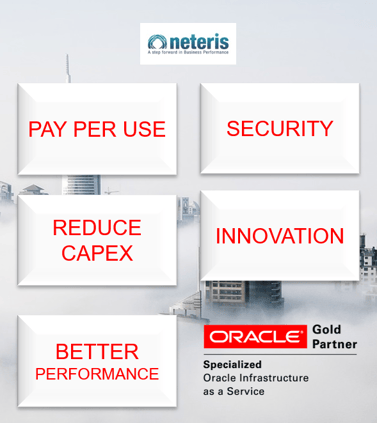 With IaaS business evolve without the need to invest in Hardware, you can keep your IT infrastructures updated and secure without big workloads for your IT equipment.
The 5 key principal benefits are:
1. Maximize the performance of your applications
Optimized for Databases and Oracle Applications as Cloud Services
Run Oracle's essential technology applications in the cloud with control and capabilities like those in the data center. Move traditional applications to the cloud, without the need to modify the architecture. Also, there is no need of receiving any training. Enjoy performance and availability same to or greater than the local environment.

2. Pay Per Use, control your IT expenses
Service on demand, you only pay for the resources that are needed
Resources are available on customer's demand. There will be no waiting time to upgrade storage or performance and therefore there is no misuse or waste of resources.
Better performance, pay per use, security, control and savings. Some of the advantages offered by the Infrastructure as Service (IaaS)
#Stepforward
3. Security and Control at your fingertips
Manage resources, audits and access in complex organizations and ensure a secure service
If a server or switch fails, the overall service will not be affected, thanks to the large remaining amount of hardware resources and redundant configurations using on cloud services. The fall of an entire data center, or of a single server, in another situation could be a chaotic, but migrating to on Cloud Services, means data is stored offsite and there is no risk of data lost or system failure.
4. Big savings by optimizing your CAPEX
Reduce your investment in capital assets
The underlying physical hardware on which the IaaS service operates is configured and maintained by the cloud service provider, which avoids spending time and money to implement servers and databases on site.

In addition, you can access the service from anywhere, if you have an Internet connection and the cloud service security protocol allows it, which also means a significant cost optimization.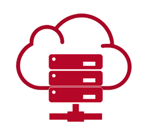 5. Elements that make up IaaS

• Storage.
• Computer resources with dedicated hardware.
• Virtual information resources.
• Databases.
• Virtual network in the cloud.

To know more, request a free demo