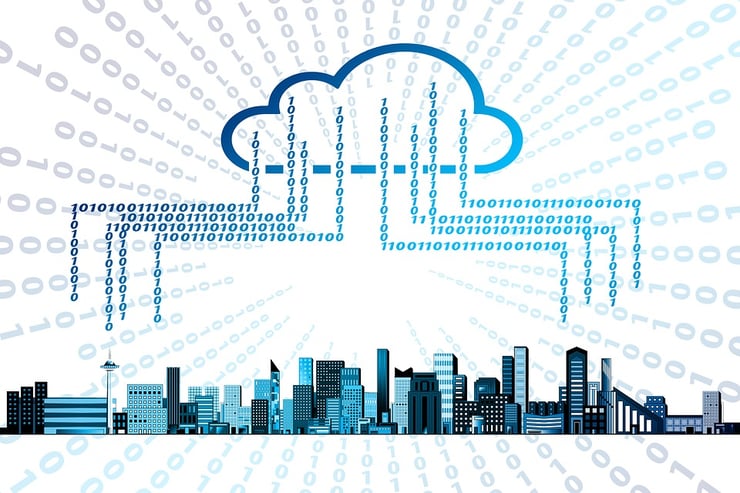 Nowadays, every mid-size or big company has the obligation of getting adapted to new technologies, with the goal of evolve and keep being competitive. In the days we are living it is very common to hear terms such as 'Cloud Computing' in a technologic level. This is because 'the Cloud' is helping enterprises to grow in an IT point of view as they allow decoupling technology infrastructure load.
Here is where Oracle Integration Cloud (OIC) appears, a solution provided by Oracle that offers an easy integration and use cloud platform, which is very powerful and maximizes your inversion worth in local and SaaS applications.
This platform includes an intuitive integrator web designer, as well as an enriched supervising control panel that shows real time statistics over transactions. One of the functionalities offered by OIC is Process Builder, a cloud service based on subscriptions for processes automation. This service offers visibility and business processes administration, in addition to a full-cycle process management environment that includes development, test and production. Process Builder has different tools that allow the design, execution, monitoring and optimization of the process, without the necessity of building and maintaining an IT infrastructure.
Fast and business easy-going application automation
Process Builder offers ways to business lines process managers to easily and quickly customize, model and change commercial applications in a collaborative way. This tool includes several starting templates and patterns that help to have an easy development. Users can build all aspects of a commercial application that includes forms, decisions, data modelling and implementations without having to write a single line of source code.
Process Builder is a cloud service based on subscriptions for processes automation that offers visibility and administration. #Digital
#StepForward
Some of the main characteristics are:
User-friendly form design that make them dynamic and receptive.
Powerful rules design that allow designers agility for dynamically determine the approvers and to control process flow. Rules are managed by simple conditional sentences.
Deep impact analysis over all existing processes.
Easy-using Sandbox for step by step testing on commercial applications.
Full Lifecycle Management in order to administrate application lifecycle.
Implementation, automatic version control and promotion from test environment to production one.
Offers solutions to real business processes, for example, if the reviewer is on holiday or is not responding in a concrete while. This way you can determine who is in charge of a concrete task in case the main person is not available or you can also rise it to a manager after a concrete period.
In terms of process internal security, this tool allows to define groups and roles that help in giving permissions to the people who belong to that concrete rol/group.
Process Builder allows to define monitoring sets, just to know where are possible process bottlenecks or simply which task is taking too long in being executed.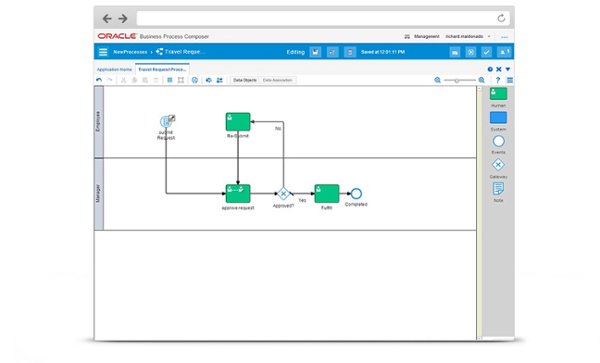 Multichannel interfaces for a more intelligent business management
Process Builder, previously known as PCS, offers multichannel services with modern user interfaces for increasing effectiveness of the ones who are participating in the process. Process Builder user interface works in a cloud-based collaborative way where people, processes, contents and data get together in order to take effective decisions.
Moreover, user interfaces are designed to be powered by advanced users, such as processes owners or operations managers, giving end-to-end visibility with all kind of details available.
Furthermore, user interface provides commercial business agility through dynamic changes in processes and adhoc routing for advanced users. They can make an analysis of an issue's root cause, identify bottlenecks and give a guided navigation in order to solve bad behavior during processes.
Productiveness workforce on portable devices for business users
Process Builder offers a productive work management to people in every moment at any place in almost every mobile device through BPM Mobile native applications. Business users can organize and complete tasks, get integrated with native mobile devices functionality such as contacts or camera and also work in an offline mode.
It is also posible to integrate it with Oracle Mobile Cloud Service in order to create processes available in native mobile applications. Oracle BPM app functionallity can be extended by using REST API and support from Oracle Mobile Application Framework.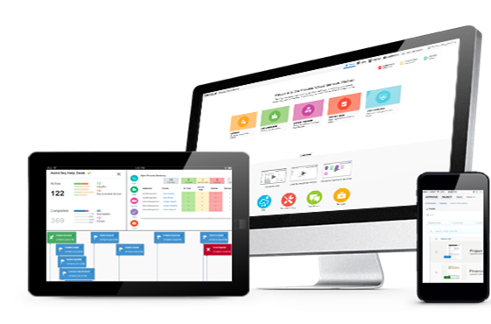 The intelligent election on process automation and collaborating environments
With an intuitive interface for a collaborative application creation in all aspects, a different one for multichannel task management which is productive and easy-to-use, visibility and intelligence on integrated auto-services, Process Builder provides a flexible management system for commercial cloud processes.
With its security, control and integration capacities at a business level, you can have a solution ready to extend easily your already existing applications that at the same time minimizes your risks.
Summary:
Oracle Integration Cloud is a platform where you can find different cloud services that allow companies to improve its worth in terms of IT, getting rid of all infrastructure charge. Process Cloud Service is one of the services provided by OIC and will for sure help in automating and organizing the main processes of the company in an easy and flexible way.